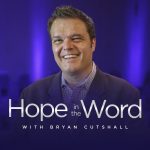 The whole world is about to know about the glory of God. The Lord is going to reveal Himself is such a way in a last-days revival, that skeptics, back sliders and unbelievers are going to come into the Kingdom. God is about to show us His glory!
Habakkuk 2:14 For the earth will be filled With the knowledge of the glory of the LORD, As the waters cover the sea.
Don't forget to SUBSCRIBE and SHARE THIS TEACHING WITH A FRIEND!
_______________________________________
Become a monthly ministry partner to help me continue to take the word of God around the world:
________________________________________
– FOLLOW ME –
Facebook: https://www.facebook.com/DrBryanCutshall
Instagram: https://www.instagram.com/bryancutshall/
YouTube: https://www.youtube.com/bryancutshallministries
Apple Podcast: 
https://podcasts.apple.com/us/podcast/bryan-cutshall-ministries/id1038759169
Google Podcast:
https://podcasts.google.com/feed/aHR0cHM6Ly9icnlhbmN1dHNoYWxsbWluaXN0cmllcy5wb2RvbWF0aWMuY29tL3JzczIueG1s
_______________________________________
Visit my websites:
www.bryancutshall.com
www.churchtrainer.com
www.isow.org